Upcoming Events at MWBC
Sunday, November 10, 10:00 a.m.:
Westward Road Performance
I am excited to announce that MWBC will be hosting the singing group Westward Road on Sunday, November 10, during the morning worship service. Westward Road is a family group of three based in Indianapolis, Indiana. After working as church worship leaders for twenty years, Scott and Kelli, along with their son Garrett, felt God's call to take their music ministry to a new level. Westward Road has a unique style of singing gospel music. They have sung with several Grammy-nominated and Dove Award winning singers over the years. They will worship with us during the service as part of their ministry in music. We will be collecting a Love Gift offering that morning to help with expenses for their ministry. If you'd like to read further about their ministry, visit their website at www.westwardroad.com. Plan now to attend church and hear this God-led group on Sunday, November 10!
Jim Cagle, Minister of Music
Saturday, November 16, 6:30 p.m.:
Family Game Night
Saturday, November 30, 6-8:00 p.m.:
Live Nativity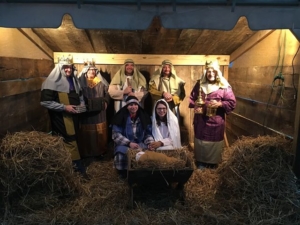 Live Nativity
MARK YOUR CALENDARS! On Saturday November 30th Mt. Washington Baptist Church will once again be bringing the Christmas story to life by hosting an outdoor Live Nativity on the front lawn of the church. This event will coincide with the Mt. Washington Holiday Walk. Our live nativity which includes a camel will be on display from 6:00 pm – 8:00 pm. This is a free event open to the public!
Sunday, December 22, 10:00 a.m.:
Christmas Cantata,
Featuring our chancel choir and orchestra, during the morning Worship Service
Tuesday, December 24, 7:00 p.m.:
Christmas Eve Candlelight Service