Children's Easter Celebration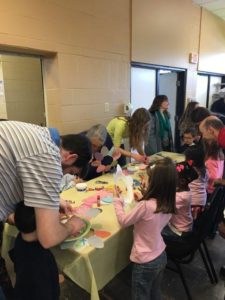 Mark your calendars for Saturday, March 24, starting at 10 a.m.. Our annual Easter Celebration (formerly called Easter Egg Hunt) for children and their families will take place.
Children will enjoy crafts, stories, face painting, lunch, candy and prizes.
Please bring candy contributions and place them in the box in the lobby marked for this event. We are looking for individually wrapped candies; no hard candy, please, except lollipops.
We would also appreciate small toys and books that will fit in Easter baskets for us to use as prizes.
If you would like to volunteer, please contact Barb Cagle. It is a blessing and a great opportunity to meet new people in the community.
---
Community Prayer Event
Pastor Penny Magee will host the next Community Prayer Event on Monday, March 19th, at 7:00 at Mt Washington United Methodist.
Maundy Thursday Service
The Maundy Thursday Service will be held at 7:00 p.m. on Thursday, March 29, with a dinner beforehand beginning at 6:00 p.m. in the fellowship hall. There will be no Wednesday night dinner on March 28th due to this special dinner and Holy Week observance on Thursday. Please plan to attend this meaningful service.
George Henry of Gideons International will speak to us about the work of this mission during our worship service on Sunday, January 14.
Easter Breakfast
All are invited to Easter breakfast at the church at 9:00 a.m. until worship at 10:00 a.m. It is a wonderful time of fellowship and good food with our sisters and brothers in Christ. Volunteers are needed to cook, serve, or clean up. We are grateful to the Mr and Mrs. B  and Donna M. who have hosted the breakfast for the last several decades. Come celebrate the resurrection of our Lord with breakfast with the church family.
(Donations Accepted)