The children and youth ministries are using Answers in Genesis ABC curriculum each Wednesday night and are really enjoying the content and discussions emerging out of the teaching. We look forward to coordinating a trip to the Creation Museum in early May. Please contact pastorchrisosterbrock@gmail.com if you would like more information on any of these activities!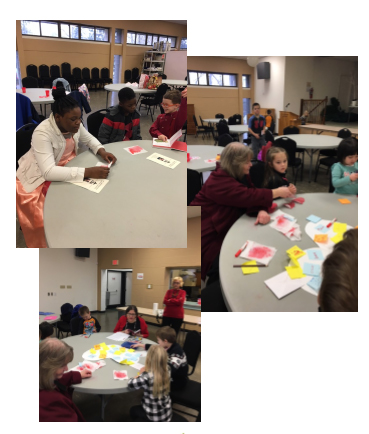 Love was in the air on February 10th for the 2 hour children's Valentine's Day party. A total of 16 children attended along with numerous parents and grandparents. Special thanks to Louannfor sharing her awesome pancake skills. The kids loved them! Also thanks to Arbutus, Karen, Holly and Pastor Chris for their help in leading the different activities.
The children learned that God loves them and they are to love others through stories, object lessons and crafts. A good time was had by all! Thanks also to Connie for the awesome goody bags she made for all the children. They were a hit!
We offer a variety of activities for children, including:
 – Sunday School classes for all ages (9AM)
 – Wednesday night activities – both "fun" and "learning" activities
 – Vacation Bible School
 – Special events such as the Annual Easter Egg Hunt, the Juggler for Jesus, and trips
 – Children's musicals
---